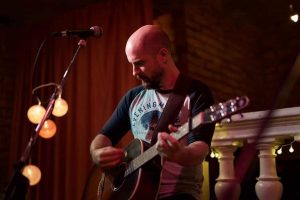 Vienna based indie singer-songwriter and poet Dylan Goff released his beautifully poetic and moving indie-folk debut EP Untethered (side one) in 2021. In an in-depth e-mail interview with klangskizzerei he talks about influences, songwriting, the joy of listening to the final mix and gives us insight into what "Untethered (side two)" will sound like.
Klangskizzerei: You opened for Mark Peters and also played a set at the Badeschiff recently – How did it feel to be on stage again after such a long time?
Dylan Goff: I think if you do anything again for the first time after a break it can be slightly nerve-racking. I was certainly nervous being back on stage supporting Mark, but by the end of the set I felt a lot more comfortable. At the Badeschiff the crowd were super respectful and that made it a lot easier to get over the nerves, there's definitely a mutual communication that happens when a crowd listens so intently. It's an amazing feeling!
What was it in your lifetime that drew you to music and poetry?
I was always writing little poems and songs in my head as a child, it was just something I did. My mother encouraged me a lot to be creative and to explore creative outlets for my energy, but it was when I taught myself to play the guitar that I first felt I could say something for myself. I started writing songs about how I was feeling, maybe I just needed to find a way I could articulate things I didn't know how to say or thought I wasn't allowed to say. Songwriting gave me that.
How have music and poetry enriched your life?
As I get older, I see more and more that I express myself much better in writing than in speaking. I get nervous socially, and I'm quite shy despite getting better at hiding it. Writing songs and poetry gives me a way to communicate in my own time where I'm less afraid of being misunderstood. I have also learned a lot about myself from writing, there have been times when things that were bothering me suddenly made sense once I wrote them in a song.
Music has also led me to meet some absolutely amazing, warm, emotionally literate people in the songwriting community. There's a real understanding that happens between songwriters.
How did it feel when you first heard the songs you wrote on your acoustic for Untethered (side 1) come alive with the instruments and full arrangements?
It was exciting! It was such a big ambition for me to release my own music, I'd wanted to do it ever since I was an 11-year-old kid learning to play the guitar in my bedroom. And here were songs that I'd written with a full sound and production. I remember the first time I heard the final mix of Romance at Russborough – I must have played it 10 times on repeat because I was so excited about the way it sounded!
Making the record really showed me the value of working with other people, and how much other people's ideas can bring to my music. I think it was important to learn that, it takes a lot of pressure off to realise that there's always at least some degree of collaboration.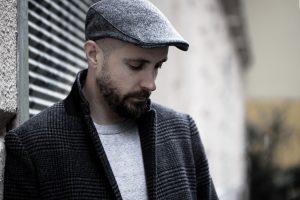 As Untethered (side 1) was your debut EP – what was your expectation of making a record like and how did it compare to the reality of making one?
I needed to treat it like a beginning – I had only recorded a couple of demos in a studio before the EP. So I tried to keep my expectations realistic and allow it to be a starting point to develop from. I think it's easy to become overwhelmed and put yourself under too much pressure to try to get everything 100% correct with a first record. I wanted to avoid that, because the important thing is that listeners to get something from the songs.
But I'm really happy with how it turned out, and I think I learned a lot about what is important to me in making a record, and also about what is involved in the process of recording and mixing a collection of songs.
Did you try to shelter yourself from influences while writing and recording the EP or did you actively listen closer to certain records?
I didn't try to control it either way really. Music is part of my life and I listen to it all the time. For me, if influences creep in subconsciously that is perfectly natural and is part of the evolutionary process of how music develops. There were definitely songs that reminded me of some of the music I listen to, but I didn't intentionally set out to sound like them.
The melodies and delivery in Snake Oil are reminiscent of The National for example – in a pretty good way though – was that a conscious influence?
That's really interesting! I am a big fan of The National and they undoubtedly influence my style a lot. But at the time I wrote Snake Oil I was listening to a lot of Phoebe Bridgers and Better Oblivion Community Center. I loved how the vocal dynamics worked on the Better Oblivion record so when I realised that dynamic was going to suit Snake Oil I asked Amelie Tobien if she would sing it with me.
How does it feel when you hear your own words in Snake Oil and Sycamores sung back to you in the duets?
Amelie is such a good singer that she could even sing a restaurant menu and it would still sound good! The parts she sings on are my favourite parts of the EP. It's very satisfying to hear those parts because I wrote the lyrics with her voice and vocal delivery in mind, and I think it came together really well. And she gives the lyrics such a new tone and a new perspective that they feel like her lyrics to me now, rather than mine.
How does it compare to the feeling you get when you're singing those songs on your own?
I rarely play Snake Oil solo, it just feels too weird to do it alone! Sycamores originally didn't have Amelie's part in it, but it now feels like the song is incomplete when I perform it alone.
How has your songwriting changed over the years musically and lyrically?
It's mellowed out a lot more I think, I used to try to make it sound as dramatic as possible but as I've got older, I've grown to love keeping things understated both lyrically and musically. I'm definitely more patient with writing. One of the ways I think I've developed is that I no longer consider a song finished. There comes a point where creatively you have to move on, but there's always something you can change and improve. Certainly the point where I feel a song is ready to be performed in front of another person happens a lot later now than it used to. I think this is reflected in my lyrics especially, I work for a much longer time on lyrics now than when I was younger.
What inspires your songs nowadays (also the brand new ones)?
Different things. There are common threads that happen in my songs I guess. Like questions about trying to figure out who we are, if we are good enough. I confront my mental health a lot through my music, it's important to me that I don't shy away from that because those demons have much more power in the dark. As I approach 40, I've been writing more and more songs that start to explore the idea of what it means to be a good man, and how to try to unlearn the damaging bullshit we learn as boys about what way we should be, about what "masculine" means. There have been a few songs about that lately!
Do you often start with the lyrics in your songwriting process, as they seem really important to you?
Actually no, I normally start with the tune and try to develop the aesthetic of the song to figure out what it is making me feel. I'll sing nonsense words to figure how many syllables I have to work with, and this is probably the most important part of the process, because it is here that I can see where in the song the lines land that will have a higher impact on the listener. I find a starting point for the lyrics from somewhere in my subconscious and write a first draft which gets edited and edited until I feel I've communicated everything I want to communicate in the best way possible. So it's a matter of writing from the heart and then crafting the song using my head.
What time of day and where do you write your best songs?
I'm a morning person in general. I think for song structure mid-morning is the best time, especially at home by myself. My best lyrics come when I'm doing a monotonous task that I don't need to think about and I can drift into the song in my head. That can happen at any time of the day I guess.
Who are your favourite poets or lyricists?
I'm a massive Frightened Rabbit fan. What I love about Scott Hutchison's lyric writing is that he was brutally honest about how he felt, especially the more introspective lyrics. There's a power in being that honest. Julien Baker has that too. Shane McGowan is also a massive influence for me, the way he can create imagery is genius. And of course Leonard Cohen. Poetry-wise I love Mary Oliver. She had a stunning way of using nature to describe feelings. And I adore James Joyce, especially the book Ulysses. That man knew how to play with words!
What do/did you want to try or approach differently in the songwriting, recording and production of Untethered (side 2) compared to your approach on Untethered (side 1)?
The songs on untethered (side two) are just as old as the ones on the first EP, so the writing hasn't changed as such. Both EPs document the songs I've been playing live for the last few years. In terms of sound and production,  I want Untethered (side two) to move a bit away from folk and more towards indie. I have a big fear as a musician and a person about being defined by being Irish. I mean, I AM Irish and I don't try to hide my accent when I sing. It's part of me and I'm proud to be Irish. But I don't want it to be the defining character of my music. I feel I have much more to offer than that. So this record will have much more of an indie feel, it will be more like the music I love listening to. I can't wait for people to hear it!
Thank you for the interview!
Gitarrenmusik und Konzertskizzen